Mather Custom Cabinets
More than providing storage spaces, your cabinets can add convenience to your daily routine and improve the overall appeal of your kitchen, office space, or any other room. With the right customization, your cabinets can maximize your space while meeting your functionality needs and personal design preferences.
So if you want high-quality custom cabinets with a wide range of available styles and finishing choices, work with Sacramento Remodeling Group—one of the leading cabinet suppliers in Mather, CA. We have all the materials, skills, and equipment needed to satisfactorily customize any type of cabinet for homes and commercial spaces.
Whether you want to simply modernize your home, create more storage for your business, or add extra smart features to your cabinets for maximum functionality that fits your lifestyle, our cabinet experts can plan and execute the best customization solution within your budget and timetable.
From installing new cabinets for newly constructed spaces to renovating old ones for better appeal and improved resale value, we are always ready to help you reach your custom cabinetry goals. Talk to us about your ideas today, and let us help you turn them into reality!
Call Sacramento Remodeling Group at (916) 461-8417 for your Free Consultation with a Mather Custom Cabinet Specialist!
Complete New Cabinet Installation Experts
No matter what style, material, layout, color, and finishing you want for your cabinets, Sacramento Remodeling Group can perfectly customize all their details and install them in the most accurate, time-efficient, and cost-effective manner. From the beginning till the end of the installation process, we will work meticulously and uphold the highest quality possible for your budget.
Our process starts with listening to all of your ideas and getting a clear vision of how you want your finished cabinet project to look and function. You can show us your desired color palettes along with photos where you get the inspiration for the style, layout, and design that you want. This will be the basis for our customization plan, which you will have to approve before we put it into action.
Once you approve of the customized design and features that we've planned for your cabinets, we will then evaluate your space to get proper measurements. This will ensure that we'll get the sizing right and that no cutting mistakes will occur, resulting in gaps between the seams, uneven cabinet surfaces, doors that don't close and open properly, and cabinet spaces where your appliances won't fit.
So whether you want us to install your new cabinets in your kitchen, store, office space, or even bathroom, we guarantee meticulously customized cabinets whose materials, features, and other specifications fit available space, functionality needs, and aesthetical goals.

Custom Kitchen Cabinets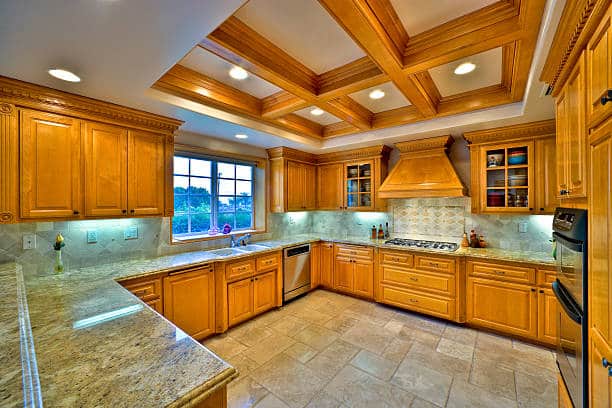 Among our most in-demand services is customizing kitchen cabinets. We have already helped countless families by turning their kitchen into a more functional, enjoyable space with our high-quality and cost-effective Mather custom cabinets.
Whether you're the type who needs a wide space for cooking preparation, wants huge storage for your supplies, or simply wants a more contemporary appeal in your kitchen for an increased value upon reselling, we can cater to your customization needs with regards to your budget, stylistic requirements, and timetable.
Our goal is to give you a kitchen where you'd love to spend more time with your family, confidently invite friends over, and make it easier to navigate in your daily routine. Not only will we widen your storage area, but we'll also add all the extra features that you may need, such as glass racks, built-in cupboards, a hidden fridge, secret trashcans, and other smart features you may want to include.
Commercial Cabinets & Display Cases
Our custom cabinetry services don't stop at enhancing the beauty and functionality of residential properties. We also offer our expertise to help businesses in addressing their storage, limited space, and efficiency issues.
No matter what type of business you're running, our Mather custom cabinets can always help you make your commercial establishment more enticing to customers or more efficient for your staff to work in.
If your business relies on heavy foot traffic from daily customers, we can help improve your overall sales with high-quality and attractive display cases. They're made from durable materials, so you can use them to display practically any product that you have for sale.
Additionally, we can also maximize your indoor space and install new cabinets that will give you a wider storage area that will be more accessible to you and your staff. This can make your entire business process easier to complete as materials will be easier to locate, and there will be more space for everyone to move about.
Aside from display cases and storage cabinets, we can also provide you with reception desks, medical office frames, and improved hardware for your existing cabinets. Talk to our team today and discuss how we can customize your commercial cabinets without breaking your budget.
Let's Talk – Free Consultation
Installing new cabinets or customizing your old ones for improved appeal, functionality, and durability takes a significant amount of financial investment. That is why you need to make sure that you'll work with the right service provider so you can get the best value for your money.
Sacramento Remodeling Group, for one, is a custom cabinet provider whom you can always trust to deliver quality results at a quick turnaround with reasonable rates. We'll take all your ideas into consideration and carefully make an ideal customization plan, so all your expectations of the project are met.
More importantly, we'll work around your budget as we meticulously complete the installation process so you can have a complete cabinetry project within the least time and expenses possible.
Call Sacramento Remodeling Group today at (916) 461-8417 for your Free Consultation with a Mather Custom Cabinet Specialist.