Elverta Bathroom Remodeling
Give your bathrooms a new look to match your needs with the help of the Elverta bathroom remodeling team at Sacramento Remodeling Group!
Bathrooms are seen as relaxation spots for many people, especially after a long day. However, some bathrooms may have a layout that doesn't fully work with one's needs. This is usually encountered by people who bought a home with a built-in bathroom or those who have an old bathroom that no longer suits them and their family.
If you're one of them, fortunately, you can get your bathroom remodeled to suit your personality and style or functional preferences.
At Sacramento Remodeling Group, you can get a stress-free remodeling service that is sure to help you achieve your dream bathroom setup. We use only the best materials and finishes for every bathroom remodeling project we do and can even repurpose or update your existing ones for additional savings. Simply let our team know what you need, and we guarantee the fees will not break your bank.
Call Sacramento Remodeling Group at (916) 461-8417 for your Free Consultation with a Elverta Bathroom Remodeling expert!
Cabinets, Vanities, & Countertops
Do you have bathroom cabinets, vanities, and countertops that no longer suit your style? Are they already outdated or in desperate need of replacement? If yes, we can help you remodel these countertops and bring them to modern times. Whether you want something minimalistic or something fancy but functional, we can help you achieve it.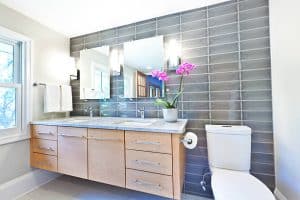 We know how stressful bathroom remodeling can be, and we also know that bathrooms should be convenient to use and help you relax after a tiring day. Your bathrooms can erode through time due to the frequency of use and the cleaning materials utilized, making your cabinets, vanities, and countertops show clear signs of damage and become unsanitary to use. However, if you get these cabinets, vanities, and countertops updated and remodeled, you won't need to worry about your bathrooms becoming functional or outdated anymore.
Our Elverta bathroom remodeling team can help you set up the bathroom to have the cabinets, vanities, and countertops you need to make it functional and appealing for all. We can even customize these pieces to suit your space and get them done for a short time without any compromises.
Shower & Bath Replacement
Over time, homeowners outgrow their existing bathroom layouts or buy a home that has a bathroom that is not perfectly tailored to their needs. You may consider getting a new bath or shower to make it more functional or opt for a space-saving option. Whichever situation you are in, our Elverta bathroom remodeling team can help you achieve your goal.
Sacramento Remodeling Group can assess your current bathroom space and recommend the best replacements: from the tiles to the actual shower or bath feature. We can even show you great ideas on how we can remodel your space to suit your new shower or bath replacement to personalize the bathroom to match your style. We work with great suppliers to get all the products that will be needed for your replacement project and guarantee they are designed for bathroom applications.
Our professional Elverta bathroom remodeling team can also help you match the tiles, hardware, and features to the theme you have in mind. If you require additional features for certain members of your family, we can add them to the plan and get them installed without affecting the overall design of the space.
Let's Talk – Free Consultation
If you are looking for a Elverta, CA remodeling company that can cater to your exacting standards for a bathroom remodeling project, look no further. Sacramento Remodeling Group is always ready to take on any challenging bathroom remodeling project and deliver results that are eye-catching, elegant, and modern for all to see, use, and enjoy.
If you are not sure what to do with your bathrooms, no problem! We can show you sample projects that you can get inspiration from, and we can also plan out the rest of the project so you can expect a solid bathroom design that you and everyone can appreciate and enjoy. It will also increase the value of your home tenfold.
Speak to one of our bathroom remodeling experts today by reaching out to us through our free consultation service. Let us show you what we have available to make your home a step closer to your dream abode.
Call Sacramento Remodeling Group at (916) 461-8417 for your Free Consultation with a Elverta Bathroom Remodeling expert!